We found a really entertaining book review of The Survivors on Kim's And Anything Bookish blog. Check it out - it'll really make you want to read the book RIGHT NOW!
~~A Reviewer's Journey GIF Style~~
The Beginning: *got it out* Okay, let's read...*five seconds later* OMGOMGOMGOMGOMGOMG!! *Cole appears* ME:

The Middle: OHMYGOSH! WHAT IS HAPPENING? *is eaten up by Amanda Havard's world of epic proportions*
Mom: Come out for dinner! Me: WHO NEEDS TO EAT? I HAVE THIS INVISIBLE CORN OF DISBELIEF TO CHEW ON!! O_O
WHAT THE HECK ARE YOU DOING SADIE? WHERE'S SWEET, SWEET COLE? Other Guy, you need to find a hole and jump in it and dieeeeee.

'''O_O OH. MY. GOD. FJSKFJKSLDJF WHAT WHAT WHAT. HOW IS THIS POSSIBLE. * FLIPS PAGES BACK AND FORTH* It all makes sense now o_____o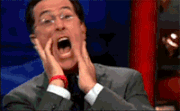 The End: No, it's over. *SOBSOBSOBSOBSOB* HOW COULD YOU, AMANDA HAVARD? I HOW COULD YOU JUST END THE SNEAK PEEK OF BOOK 2 LIKE THIS? sobsobsob.
You all need to read it now!
The rest of Kim's book review is here.